How to choose the display cabinet in the smoke shop
author: OUYEE Display
2022-12-09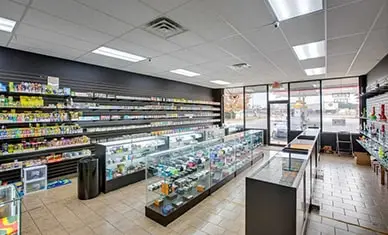 There are several factors to consider when choosing a
display cabinet
for a
smoke shop
. Here are some tips:  
Consider the size of the cabinet and make sure it will fit in the space you have available. Measure the area where the cabinet will be placed and make sure the cabinet will fit comfortably.

Think about the style and design of the cabinet. It should complement the overall aesthetic of your smoke shop and attract customers.

Consider the type of products you will be displaying in the cabinet. If you will be displaying delicate items such as glass pipes, you may want to choose a cabinet with adjustable shelves and glass doors to protect the items.

Choose a cabinet with good lighting to showcase your products. Consider using spotlights or LED lights to highlight the items in the cabinet.

Consider the security features of the cabinet. If you will be displaying valuable items, choose a cabinet with locking doors or a security system to prevent theft.

Finally, consider the cost of the cabinet. Determine your budget and look for a cabinet that fits within your price range while still meeting your needs.